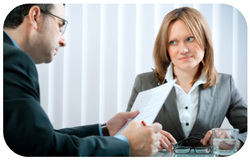 Last week I wrote about the importance of a competency based leadership development plan and the impact that right leadership development program can have on employee engagement. As we quickly approach the end of the first fiscal quarter of the calendar year I began to think about what a driver of employee engagement regular, consistent and timely performance management discussions are.
I've been involved in three separate, noteworthy conversations regarding performance management and leadership development over the past couple of weeks, each of which has had a slightly different twist. In talking with my friend Jeanne Albert of
fluid Human Resources
, she noted that many front line leaders aren't able to easily articulate what their direct reports are being measured against. My colleague Gary Brown from
Censibus Strategies
, referred to a consistent lack of organizational rigor when it comes to assessing the measurement criteria. Finally, Adam, a new manager I have been working with, was questioning his company's requirement for completing a quarterly performance management process.
Adam's employer conducts quarterly performance appraisals and he's feeling the pressure to get them "out of the way". Part of his concern is how he can add value to the process given that he is so new to the role of being a leader of others. His initial reaction was just to let them slide this time around so he could form his own opinions and deliver his feedback during the six month review.