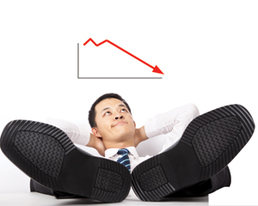 It's the last week of January and while you started the year with a clean slate I'm willing to bet that you're already seeing the tell tale signs in some of the members of your sales team. You sweated through those strategy sessions in the fall and locked down your plan for the New Year. January is a time of high expectations and high hopes for the future. One thing is certain, all of the encouragement, annual sales meetings, conferences and rallies won't help you to get a struggling sales rep or sales team on track. The experts suggest that the answer is a combination of sales management and training.
The problem is a complex one that has been faced by virtually every organization and every leader at some point in their career. We promote great sales talent into sales leadership roles but then don't teach them how to manage and coach for performance. Some organizations make the decision to provide sales process training for their sales reps only to find out that the reps fall back into the same habits. It all starts with great sales management but even the great ones need some information in order to focus their efforts:
Which of their reps need training?
Should the training be broad based or focused on specific areas of the sales process?
Which of their reps would benefit most from in-the-field coaching?
How do they have regular coaching conversations that lead to improved performance?
It's not as simple as just cutting the under-performers loose. There's a huge expense attached to turnover and often the situation would be far better served by a professional nudge in the right direction. Throughout the month of February I'm going to provide the strategy and tactics that your organization needs to deploy to ensure that you hit the top line revenue forecast in that shiny new budget you're tasked with implementing. For me, the first quarter has always been about building momentum for the sales team or organization. A strong start sets the stage for success throughout the year.
If your sales reps are following a consultative selling process they will have maximum success when they align their efforts with the client's buying process. I subscribe to a simple, four step consultative sales process called READ. Your process may involve more steps but they're likely just more granular than the four involved in the READ process. The steps I use are as follows:
Relate - we want to build business rapport, create trust and credibility, and manage client expectations
Establish need - your sales reps have to be able to accurately assess the situation in order to uncover client needs and should also be adept at examining the decision making criteria the client/prospect uses
Advance solutions - the most successful sales reps are able to articulate your value proposition in a way that ties directly to client needs and they sell through client involvement
Develop commitment - the key sales skills here are understanding objections, utilizing an objection handling process, and getting to a yes with the prospect/client
We developed an assessment to help our clients determine who in the sales organization needs training, and in which of the four specific areas, and who would benefit from more in-the-field coaching with their sales manager. It's called the Sales Ability Test, consists of 24 questions and takes about 15 to 20 minutes to complete. I'm offering the first 5 companies that respond a free benchmark assessment of their sales team to help them kick start 2014. Just follow the link below and complete the form to be one of the 5 companies to receive this free offer.
Get Your Sales Team On Track!Here is the First Tip in the Series
Whatever sales process you use, it is important that the sales reps in your organization spend time practicing. Your sales team is like a group of high performing athletes. Regardless of the sport involved it is virtually impossible to think of a team or individual that doesn't spend more time practicing than playing. When it comes to sales teams we typically do the reverse…limited practice time but lots of game time action. A great sales manager builds practice time into the weekly schedule. Practice often, practice with purpose and practice at full speed!