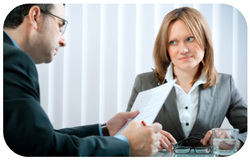 Last week I wrote about the importance of a competency based leadership development plan and the impact that right leadership development program can have on employee engagement. As we quickly approach the end of the first fiscal quarter of the calendar year I began to think about what a driver of employee engagement regular, consistent and timely performance management discussions are.
I've been involved in three separate, noteworthy conversations regarding performance management and leadership development over the past couple of weeks, each of which has had a slightly different twist. In talking with my friend Jeanne Albert of
fluid Human Resources
, she noted that many front line leaders aren't able to easily articulate what their direct reports are being measured against. My colleague Gary Brown from
Censibus Strategies
, referred to a consistent lack of organizational rigor when it comes to assessing the measurement criteria. Finally, Adam, a new manager I have been working with, was questioning his company's requirement for completing a quarterly performance management process.
Adam's employer conducts quarterly performance appraisals and he's feeling the pressure to get them "out of the way". Part of his concern is how he can add value to the process given that he is so new to the role of being a leader of others. His initial reaction was just to let them slide this time around so he could form his own opinions and deliver his feedback during the six month review.
With a little coaching I was able to get Adam to self-discover the reasons why this would actually be a great opportunity for him to create more clarity around his expectations, better define what outcomes are required and use this time to have each of his direct reports establish appropriate goals to close out the first half of their fiscal year on a high note. Once he started talking it through Adam realized that a number of his former supervisors had missed opportunities to have him either get back on track during the course of the year or reset his target so that it would be more challenging when he was ahead of the curve.
According to
Dr. Tim Baker
, performance management "is about getting rid of the traditional form filling, bureaucratic approach and then replacing it with a developmental approach rather than an evaluative approach". Herman Aguinas, author of the definitive performance management text,
Performance Management,
puts it this way, "performance management requires that managers ensure that employees' activities and outputs are congruent with the organization's goals and, consequently, help the organization gain a competitive advantage. Performance management therefore creates a direct link between employee performance and organizational goals and makes the employees' contribution to the organization explicit".
The truth is that from a leadership perspective, performance management is an ongoing process that involves feedback and, coaching if needed, not an event such as an annual appraisal. To my friend Jeanne's point, how is an employee supposed to know what good performance looks like if the manager isn't able to describe that to them. This ties directly to the key performance indicators for each role and as such should be aligned with the overall strategic plan of the organization. In the organizations that do it well, performance management is based on three pillars: setting clear and measurable goals, implementing concrete actions, and creating a culture of accountability
.
When I'm working with a client I want them to understand how each role drives the successful outcomes outlined in the strategic plan. To be able to do that, we have to be aware of the knowledge, skills, abilities and
behaviors
required for each role as well as the key performance indicators for each role. The bulk of this information should flow from the job descriptions and job specifications for each role. I get them to use the psychometric data from a behavioral assessment called the
McQuaig Job Survey
to identify the behaviors that are critical to success and that support the workplace outputs required. If you are able to manage and provide the coaching in these areas, as a leader you're well on your way to hitting your team's performance targets.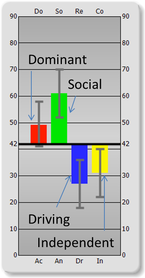 The output from the McQuaig Job Survey behavioral assessment provides a great deal of detail as to what the front line leader should be looking for from the people s/he has in this role. This particular job requires someone who is:
is very friendly, sociable and out-going

enjoys working with and selling ideas to people

is a good communicator, optimistic, tending to see the positive side of things

is restless, driving and energetic

has a sense of urgency to get things done quickly

works well under pressure and deadlines

is somewhat independent and persistent

wants to take charge and show some initiative

tends to be competitive and goal oriented

can enjoy taking on some difficult assignments

Based on the output of the McQuaig Job Survey behavioral assessment, here are some points for the manager of this position to keep in mind when coaching an individual who matches these requirements :
s/he is more oriented towards working with people than with ideas and methods (perhaps you've got someone else on the team that would be better suited to delegate analytical tasks to – let them focus on building and leveraging relationships)
requires plenty of people stimulation on the job and will not perform well in situations where there is little or no people contact (once a year in a performance appraisal isn't going to cut it with this person, spend the time and focus on their needs)
will dislike routine work, although can adjust to it (that's not a bad stretch assignment to talk through with them since it is out of the comfort zone and will help with skill development)
prefers to not do detail work, although may be capable of it (see above note)
tends to want some challenge (find ways to challenge them, get their input during regular coaching sessions)

I haven't met an employee yet that didn't prefer regular feedback and coaching over the traditional performance appraisal system. The latter approach does little to engender employee engagement. The great news here is that even if your organization is one that has formalized the performance review process into a once or twice a year event, doesn't mean you can't go beyond that. Try this during your next one on one meeting with a direct report. "Hey Adam, what do you think great performance looks like in your role?" I'm willing to bet that if leaders have conversations like this with their direct reports regularly, they will see a significant increase in the level of employee engagement.
| | |
| --- | --- |
| Download a sample performance review form we've introduced to our clients. It takes the process from an evaluative approach to a developmental approach. | |