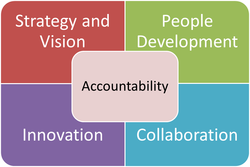 As I look back over the course of my corporate career, there's no question that Jim Brown is the most inspiring leader that I had the privilege of working with. He was one of those people that you worked with and not for and as a result managed to get buy-in throughout the organization. He encouraged me to take on a leadership role and continued to be the source of motivation for me to be a better leader long after we went our separate ways.
Jim's latest blog posting "
Where is your leadership focus?"
got me thinking about the state of leadership that exists in most organizations as well as the state of leadership readiness for our next generation of leaders. His focus as a leader created employee engagement...long before those words became part of the business lexicon. Leadership drives engagement just as surely as engagement drives results. How we can expect great results when current studies of employee engagement suggest that anywhere from 40% to 70% of the workforce are disengaged is crazy.
There's a leadership model that I subscribe to that puts accountability front and center as one of 5 leadership core competencies. The
Society For Human Resource Management
(SHRM) describe leadership competencies as "leadership skills and behaviors that contribute to superior performance". They further state that "by using a competency-based approach to leadership, organizations can better identify and develop their next generation of leaders", also known as creating a leadership development program. That's going to be crucial as we lose tenured talent to retirement. The SHRM article referenced here also suggests that a "focus on leadership competencies and skill development promotes better leadership". It naturally follows that better leadership should promote higher levels of employee engagement.
Working in collaboration with Tony Scutella of
Shifting Mindsets
, we have developed a leadership readiness self-assessment that funnels data into an individual leadership development plan. In combination with the McQuaig Self-Development behavioral assessment a current leader, or leadership candidate, creates a road map for their personal development with a focus on their own specific areas for improvement. Working with an accountability coach the individual creates the plan and has regular status update meeting to ensure progress toward their development goals.
Our Leadership Competency Model
Accountability
In your day to day actions you accept responsibility for the outcomes expected of you (Merriam-Webster defines accountability as "an obligation or willingness to accept responsibility or to account for one's actions")
As an individual contributor in an organization your accountability is tied directly to your actions and the outcomes expected of you
As a leader in an organization your accountability is not only tied to your actions and expected outcomes but to those of your team and starts with the assumption that it was your leadership that produced the specific results
Strategy and Vision

Cuts through complexity and simplifies strategy into specific actions

Demonstrates personal character (integrity, candor, courage, winning attitude)

Sets direction (vision, focus on customers, includes a focus on the future)

Builds organizational capacity for change

---

Innovation

Identifies opportunities and solutions
Takes risks to promote growth on people and ideas

Challenges the status quo

Builds, improves and sustains processes and systems

People Development

Builds trust and respect

Communicates effectively

Develops skills and abilities of others to build capability and capacity

Manages conflict to minimize organizational disruption



---

Collaboration

Builds effective relationships (internally & externally)

Establishes professional networks with other organizations

Works successfully with others

Solves problems through collaboration with an external focus
---
Download a sample copy of the Leadership Development Plan