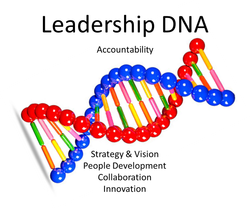 In the words of Jack H. McQuaig, "self-awareness is the foundation for achieving higher levels of performance. Highly successful people are not necessarily blessed with a higher intellect or more charisma than others, but they do know how to make the best use of their talents and how to avoid the pitfalls that could limit their success." The McQuaig Self-Development Survey®, a behavioral assessment, will help you identify your strengths and become aware of weaknesses that decrease your effectiveness. This knowledge will enable you to improve your performance, increase your job satisfaction and achieve greater success. The report focuses on a person's preferred or natural pattern of behavior and should be a foundational element of a leadership development plan.

In my last article I provided a free download of the report that was based on the results of a study that The McQuaig Institute conducted with 1038 executives in 2011. The report supported what we've been seeing for years now as far as leadership behavior is concerned. It generates a benchmark for leadership behavior, given that 80% of the participants had natural behavior patterns that would be categorized similarly. This creates the unique opportunity for new or aspiring leaders to easily compare their own preferred patterns of behaviour to a group of existing, successful leaders. The results of the study also provide us with an understanding as to why there are employee engagement issues in many organizations. It makes sense when the focus is more on generating results and less on building and leveraging the relationships necessary to create sustainable results.

Here is the graphical result of the composite profile we created using the data from the study. As a group, these leaders were:
Competitive
Balanced between being analytical and social
Fast paced and pressure oriented
Preferring room to manoeuvre and make decisions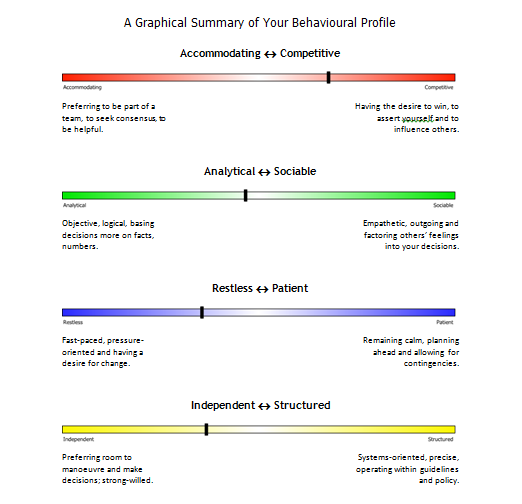 It's incredible how a strength can also be perceived in a negative light by others in the organization. Heading the list of strengths for this composite leadership profile is driving results. As a strength it's described as follows:
You are very self-confident and results oriented
You are assertive and have a strong desire to succeed
You are comfortable expressing your point of view
The challenge comes in collaborating with others. In situations that require a collaborative style of leadership this person wants to be in control of most situations and can come across as overbearing. Of course that's going to inhibit input from others on the team. This individual might also be seen as being too focused on their own agenda. I think that we would all agree that if we're trying to build the level of employee engagement none of those areas of development are going to have a positive impact.
Feel free to download a copy of the report below. I think you'll find it interesting. Of course there's only one way to know for sure what your Leadership DNA in this same context. We're offering a web based promotion that is 1/3 off of our standard fee for the following:
1 McQauig Self-Development Survey
Our personal Leadership Development Plan
1 hour of web based coaching based on your results
A half hour follow up session 1 month after our initial coaching session
Click on the button below to find our more.